Comment on Web Consultancy Review by SEO Gold Services.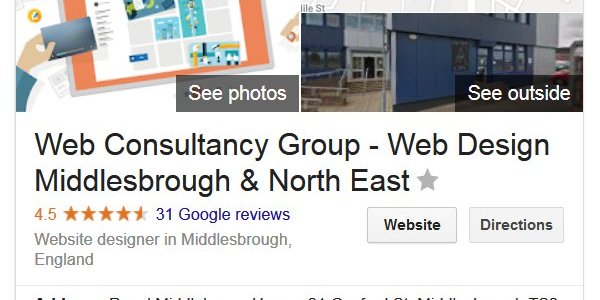 Stephen Hall owner of the Middlesbrough Web Design Company DLH Web Consultancy LTD sent me this via a Facebook message, clearly a negative SEO attack threat :
Stephen Hall : 11/12/2014 14:58
Serious question…
What is you problem?
Stephen

Stephen Hall 11/12/2014 15:24
Currently my writers (Obviously I'm not a writer) are writing many blogs, posts and articles about you, your business and everything we can find relating to 26 Wainfleet Road, Skegness, Lincs PE25 3QP United Kingdom – 01754763099… Give me a few weeks and everytime Google is searched for anything relating to the above they will find our posts… wonder how you like it big man.

Stephen Hall 11/12/2014 15:28
Search Engine Optimization Consultant, WordPress SEO Theme Developer and Nice Guy

Nice Guy? Really? Yet you try and damage the reputation on honest people trying to feed their children… You tell yourself your nice but the truth is actins speak louder than words… From whey I see online you bitter and angry!

Clearly I'm not proof reading what I type, Im no a mobile but dont really care if I make mistakes while sending these…
# https://www.facebook.com/StephenHall81 (Stephen Hall FaceBook page)
**********
Looks like I've made a new negative SEO nemesis called Stephen Hall owner of DLH Web Consultancy LTD from Middlesbrough :-)
Sent him this via Facebook.
**********
Missed this until today, don't really use Facebook for business.
Would have helped to say who you are, had to think for a minute to link your name (Stephen Hall) to #####
Just like the site at https://whocallsme.com/Phone-Number.aspx/01642224442 I'm not trying to damage your web design business per se, I'm protecting consumers looking for SEO services and web design services from an unethical email spammer. You are sending out unsolicited email, that's a fact.
If your staff member Elizabeth Mulligan didn't send out unsolicited emails to email addresses clearly harvested from Whois data I'd not know you exist.
Clarification 2020: The reason I was confident the email Elizabeth Mulligan sent me was unsolicited was the email address she used (I still have the email in my Inbox ready to send to the police). She sent the email to info@stallion-theme.co.uk, I only ever use info@ email addresses for my Whois Contact email address, I NEVER use info for anything important. They either scraped the info@ email address from the Whois Contact email address or they bought it from some other unsolicited SPAM emailer who scraped it. I didn't give my consent to receive email from DLH Web Consultancy and have NEVER been one of their customers. Which makes the email unsolicited SPAM email: see a good definition at https://www.spamhaus.org/consumer/definition/.
Don't send out bulk email spam, it's not nice and wastes ethical business owners time and money dealing with it. People like you are scumbag email spammers and deserve the truth to be told. And for the record I used to be a scumbag forum, guestbook and comment links spammer for backlinks over 10 years ago: got hit bad by Google and stopped link spamming.
Do what I do, admit your business mistakes and move on.
You were unlucky your email spam pissed me off that day and when I asked for the free report it never arrived which irritated me further.
From the DLH Web Consultancy unsolicited email spam:
Before anything else, I'd like to offer you a free in-depth website audit. This will cover many important factors along with what could be done to improve your current rank. This audit is completely free and will benefit any website owner. All reports will be sent directly to you via email.
Where is my free in-depth website audit?
You know I should have reported you for email spamming, there's legislation about unsolicited email spam.
Ooooh, threatening me with a negative SEO campaign of my name, home address and phone number. WOW you really should research ethical business practices Stephen!
Update: Stephen Hall followed through with the negative SEO attack, they added a Blog post to their business website with my name, home address and phone number.
Please consider the damage to your web design business I did with a single WordPress comment (not even an article) which I haven't linked to from any other websites, all I did was write one WordPress comment which because I've got closing on 15 years of SEO experience it got your SERPs and attention.
Think what could happen if I actually tried to damage your business with negative SEO like you just threatened me with: note I would never cross the line and lie, would only tell the truth about your unethical business practices like threatening a negative SEO campaign. Again shows how unethical you are Stephen Hall!
If you wish to play hardball with an SEO expert with a large network of domains who could swamp your SERPs (not one listing, dozens), feel free to roll the dice, it would make for an interesting negative SEO test (would only tell the truth). I wouldn't waste my time damaging your business for the sake of it, but as a negative SEO test it has SEO value and as you are a business owner with no ethics (you've threatened to damage my business using negative SEO techniques for telling the truth) it couldn't happen to a nicer person or web design business.
Update: I didn't do any of the above in 2014, 2015 or 2016. In 2017 after he managed to remove my DHL Web Consultancy Review from Google I changed my review from a WordPress Comment to a WordPress Post (these are easier to SEO) and replicated the review on two other domains as backups in case it's removed again: he's tried to remove them again, but failed.
I'll have to write a new SEO tutorial now targeting negative SEO SERPs like these and if you do follow through with your negative SEO threat use you as a case study:
Update: Haven't done this.
Negative SEO SERPs – monthly traffic to the right.
negative seo 900
negative seo services 210
negative seo attack 110
negative seo techniques 90
what is negative seo 90
how to do negative seo 70
negative seo service 70
negative seo tactics 50
negative seo guy 30
how to negative seo 30
negative seo backlinks 30
is negative seo illegal 20
buy negative seo 20
negative seo company 20
seo negative keywords 20
seo negative 20
how to stop negative seo 10
negative seo campaign 10
Unlike you I'm very good at SEO and have no problem with anything negative you say about me online, I'll turn it into a positive. I no longer offer SEO services (offer no services), so not taking on any clients, yes you could damage my reputation with negative SEO (you wouldn't be the first to try), but as I don't take on clients who is it going to impact?
The only thing you could potentially damage is my Stallion WordPress SEO theme sales (the only product I sell), but you are already showing how awesome my WP SEO theme is, my theme took your business SERPs with one WordPress comment. Consider what Stallion would do with full on SEO of blog posts, I can use your attack as a sales page (testimonial almost).
Will be posting a copy of this at https://stallion-theme.co.uk/google-consultant/ (originally shared as a comment on my other site until I moved it here during a partial site merger: I'm moving non theme SEO content from the theme site to here).
David Law
Update May 2017: Please note this comment only relates to the business (now closed) called DLH Web Consultancy Ltd (https://beta.companieshouse.gov.uk/company/08239559) located at Boho One – F05, Bridge Street West, Middlesbrough, England TS2 1AE and NOT the business Web Consultancy Group Ltd (https://beta.companieshouse.gov.uk/company/07924238) located at 21 Gosford St, Middlesbrough, TS2 1BB. That being said Stephen Hall (the person who threatened me via Facebook with a negative SEO attack) was/is part of both businesses DLH Web Consultancy Ltd and Web Consultancy Group Ltd.