Comment on Web Consultancy Group LTD Review by SEO Gold Services.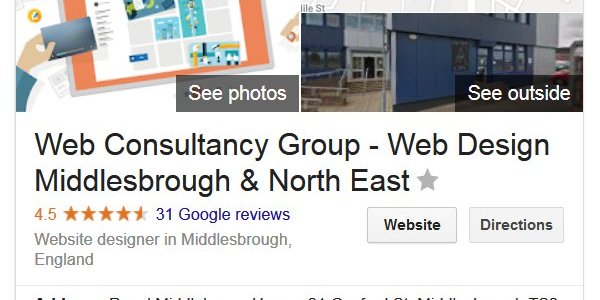 Elizabeth Mulligan from the Middlesbrough Web Design Company DLH Web Consultancy LTD has made my day, I upset an email spammer with one of my comments with the subject "DLH Web Consultancy Ltd Review": the WordPress comment is ranking high in Google for relevant searches like DLH Web Consultancy Review and looks like their customers are reading my 'review', wahoo :-)
Yes, like many who are plagued by email spam I'm an "angry horrible person" when dealing with unethical businesses that use unsolicited email spam. I do not appreciate having to spend valuable time sifting through email spam, it makes me angry, so if my comment has cost the Middlesbrough Web Design company business it was well worth my time writing the comment. Maybe they'll think twice about using unethical ways to generate customers.
I did like this bit of the comment:
Writing an entire blog post and republishing my email IS a hugely harsh overreaction; Acceptable for a pure Indian spammer out for a quick buck, but way over the top for a genuine business like mine.
Firstly the above isn't a blog post, it's a single comment (update: I later created an actual blog post). The WordPress SEO theme I've developed (Stallion Responsive) includes a unique SEO feature which turns reasonable size comments (like this one) into a webpage Google can index and send traffic to (see link bottom right corner of the comment). It's why DLH have created an article "A response to 'SEO Dave'" on their Web Consultancy Group website.
WOW, that sounds a little racist! If an Indian had email spammed me it would be acceptable to post their spam email, but because you are a white British person (looked Elizabeth Mulligan up, she's white) it's OK to send the same sort of spam emails! WOW.
And from the "A response to 'SEO Dave'" article on your site you wrote:
We would have liked to speak to SEO Dave in regards of which of our clients he spoke to in order to ascertain and judge our service. We would like to believe that he did in fact contact some of our clients before publishing his statements on his site. If he did not then one would have to view his actions as unethical, since he would appear to be running a website design and services company.

Unfortunately SEO Dave does not have contact details on his website.
I didn't have contact details on this site in August when you sent the email spam, yet you managed to send me email spam, I wonder how you originally found the domains Whois email address. Sort of suggests you never visited my site, just sent out a blanket SPAM email to thousands of domains you harvested and hoped a few would bite.
If you desperately wanted to speak to me you could have used email again. I also don't hide who I am, nickname SEO Dave, real name David Cameron Law, live in Skegness and my website (own around 130) usually have open Whois data, but like you said this domain was set to "non-trading individual" by mistake. Looks like the registrar I use for most .co.uk domains sets domains by default to non-trading individual and I'd not changed it (fixed now), I guess you found my address etc… via my .com domains which all should have accurate and open Whois data.
BTW I don't run a "website design and services company". I make most of my money using SEO techniques on my own websites. I used to offer SEO services, but not any more, can make more money using my expertise on websites I own. The only product/service I charge for is one WordPress SEO theme.
Interesting, looks like I stumbled on an unethical business.
DLH Web Consultancy LTD appears to have changed their online name (again!): when I wrote the comment a few months back their website was branded for their business name and on a different URL (was a .co.uk domain, today it's a .uk extension).
Checking Google today for "DLH Web Consultancy LTD" and their current website isn't listed in the top 10.
Number 1: https://companycheck.co.uk/company/08239559/DLH-WEB-CONSULTANCY-LTD/companies-house-data
This lists some basic details about the companies accounts and gives an indication of their accounts.
2013 details…
Cash: £30,456
Net Worth: £20,893
Assets: £30,456
Liabilities: £36,586
Not exactly impressive numbers for a web design company that according to their website DLH have 28 people working for them.
Update October 2016: according to the above website the company called DLH Web Consultancy LTD has dissolved.
Number 2: https://whocallsme.com/Phone-Number.aspx/01642224442
This one is a bunch of complaints about a web design business called "Business Search Local" that was cold calling (telephone) to drum up business. Appears to be the previous business name by the person who owns "DLH Web Consultancy LTD".
The last response is from 27th November 2014 (2 weeks ago) subject "Another ex employee" and the commenter says they used to be called "Indica web design" and have listed the Caller: Web Consultancy Middlesbrough and Call Type: Telemarketer. So if an honest comment they are still cold calling.
I have no reason to do full research on this web design company, I'm never going to hire them. If you are a potential customer of this Middlesbrough web design company I suggest you do your due diligence, reading the above webpage I wouldn't touch them with a barge pole, but I would confirm the details first.
Number 3: This website, yep, I'm ranking high in Google for the search DLH Web Consultancy LTD. Not bad for a WordPress comment.
From an SEO perspective (my area of expertise), their SEO is rubbish, they aren't even ranked top 10 for their home page title tag "Web Design Middlesbrough | North East | Web Consultancy" which is really long tail if you search for it all (not even a real SERP and they aren't listed!)..
Thanks again for making my day Elizabeth Mulligan of Middlesbrough Web Consultancy or whatever you call yourself tomorrow.
Potential customers, buyer beware with when using DLH Web Consultancy – Website Design.
David
Update May 2017: Please note this review only relates to the business (now closed) called DLH Web Consultancy Ltd (https://beta.companieshouse.gov.uk/company/08239559) located at Boho One – F05, Bridge Street West, Middlesbrough, England TS2 1AE and NOT the business Web Consultancy Group Ltd (https://beta.companieshouse.gov.uk/company/07924238) located at 21 Gosford St, Middlesbrough, TS2 1BB.