Comment on Yoast WordPress SEO Plugin Review by SEO Gold Services.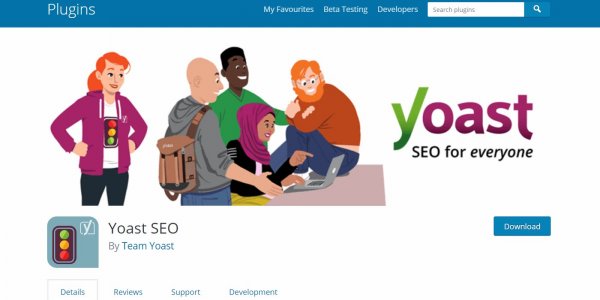 In the process of rewriting the Yoast SEO review (main article) to take into account Google SEO 2014, so I've moved the old review to this comment. Before moving the old Yoast SEO review I'd made a few important updates to the information below, so still worth a read in 2014.
Yoast WordPress SEO Plugin Review
The Yoast WordPress SEO Plugin Review is from 2010, so no longer completely valid.
I installed the Yoast WordPress SEO Plugin on my development server to review it (would never use these so called WordPress SEO plugins on a live site).
First thing I noticed was the description of the Yoast WordPress SEO plugin under the plugins page was: "The first true all-in-one SEO solution for WordPress." That's a bit of a sweeping statement, guess I'll not need any more WordPress plugins that I use for SEO reasons after I've reviewed the Yoast SEO Plugin.
I'll apologize in advance for the length of this review, Yoast WordPress SEO Plugin has a lot of features/options and it's difficult to review them without explaining the SEO concepts behind the features.
Yoast WordPress SEO Plugin Features
Going to try to go through all the SEO plugins features and give my verdict of their useful/uselessness. First off I tried the plugin with one of my SEO themes and it broke the title of some pages, basically stripped what was in the title element and left a blank title. Tested with the default TwentyTen theme and had the same problem, turns out some settings of the plugin are left blank by default, so to get this plugin working on a live site I strongly suggest you know what you are doing first (test on a development site for example) as many of your title tags are going to be blank upon activation of the Yoast WordPress SEO Plugin! This is fixed in 2014 versions of the plugin.
When the WordPress SEO Plugin is activated you get a new left menu settings added to your WordPress dashboard, below I'll review each section.
Yoast WordPress SEO Plugin Dashboard
Settings Advice
I get a red warning: Paging comments is enabled, this is not needed in 999 out of 1000 cases, so the suggestion is to disable it, to do that, simply uncheck the box before "Break comments into pages…"
Hmm, that's not true of many of my WordPress sites, and this really should have a bit more information describing the advantages and disadvantages of paging comments (since Yoast's author, Joost de Valk believes is important SEO wise, which it's not).
If your site doesn't generate many comments per page it's true you don't need to paginate comments. That being said if a page doesn't have enough comments to generate paginating comments there's no harm having it turned on (it doesn't do anything until you have a page with lots of comments).
I have a jokes site with almost 18,000 comments with a few posts having several thousand comments each, imagine all those comment threads on one page, those posts would never fully load!!!
Basically this SEO plugin feature is a waste of time, if your site generates a lot of comment threads you paginate them, if you paginate a site with few comments it makes no difference. I set all my sites to paginate at 25 or 50 comment threads per page by default, if it becomes popular it's ready for thousands of comments. On a few sites that generate long comment threads like https://general-election-2010.co.uk/ (some comment threads have 10+ comments each) it's set to 10 comment threads per page as it was causing the pages to load slowly with even 25 comment threads per page (even with 10 comment threads it can result in 100+ comments per page).
I get a red warning: Go fix it. You're not pinging Google Blogsearch when you publish new blog posts, you should add http://blogsearch.google.com/ping/RPC2 to the textarea under the "Update Services" header.
Not absolutely needed, but a nice reminder to ping more than the default ping service (this is SEO fluff, I wouldn't install a plugin just for this reminder).
Webmaster Tools
There are three boxes for pasting verification codes for the following services.
Google Webmaster Tools:
Yahoo! Site Explorer:
Bing Webmaster Tools:
Again not what I'd consider a killer SEO feature. I suppose useful to those who don't know how to upload a file Google Webmaster Tools gave them etc… to verify a website. This assumes you use Google Webmaster Tools, Yahoo! Site Explorer and Bing Webmaster Tools. Personally I haven't set these up for all my domains (don't have the time for that level of analysis for 70+ WordPress installations). I didn't test this SEO feature since was working on a development server on my work PC.
XML Sitemap
Multiple settings related to XML sitemaps.
Although you don't need an XML sitemap to get a site indexed, many webmasters use them. I never use them on important sites because, if the page isn't found naturally by Google's spiders etc… it's highly unlikely to rank well for anything anyway. On less important domains where you don't have the time to manually check what's indexed, use a sitemap it won't do any harm.
I'm sure many SEO consultants and experts will disagree with me on this point, but I see it similar to the old search engine submission services, yes you can submit your pages to Google etc… one by one, but the search engines don't rank pages because you submitted them (it's got no real long term SEO value). Ranking is primarily based on backlinks, if Google etc… can't find your pages with their spiders (no link juice) they aren't going to rank well even if the on page SEO is awesome.
I find it more useful to have pages that there's a problem with spiders finding them naturally NOT to be indexed through an XML sitemap as then I know there's a problem regarding backlinks or something else is wrong with the page. If I find an important page isn't indexed I can add more links and check there isn't another reason for it not being indexed (it's more work mind you doing it this way which is why I only do this on important sites).
None of the SEO features so far would result in me either using the Yoast WordPress SEO Plugin on a live site or recommending it to others.
Yoast WordPress SEO Plugin Titles
Here you have a list of options where you can set what should be shown as the title element and the meta description tag for various types of pages on a WordPress blog. I believe all page types are covered, Home, Categories, Tags, Search, Date and Author Archives, Posts, Pages and even the 404 error page.
There are no built in defaults which means those who don't understand SEO left to build their title elements and meta description tags from scratch from a list of settings that require copying and pasting to use. Not a good start, there really should be an ideal SEO build for each page type that can be reset upon making a mess of these settings (will add this SEO plugin is in beta stage, so something to add in future releases Mr Yoast :-)). this has been rectified for the 2014 versions.
In my themes I use the following settings built into the header.php template file of the themes which I think could be partially mimicked with the Yoast WordPress SEO Plugin.
Homepage
Title template: Sitename
Meta description template: Sitename, Sites Tagline
Post
Title template: Post title
Meta description template: Post Excerpt, Sites Tagline. Note: The excerpt can be auto generated or manually created by adding an excerpt to your posts. I use the RSS version of the excerpt since this strips HTML and prevents a few issues with plugins, so my themes meta descriptions are better than what this plugin creates.
Page
Title template: Page title
Meta description template: As above, but for pages rather than posts.
Attachment
Title template: Sitename
Meta description template: Sitename, Sites Tagline
Category
Title template: Category Title
Meta description template: Category Title, Sites Tagline
Post_tag
Title template: Tags Title
Meta description template: Tags Title, Sites Tagline
Author Archives
Title template: Sitename
Meta description template: Sitename, Sites Tagline
Date Archives
Title template: Sitename
Meta description template: Sitename, Sites Tagline
Search pages
Title template: Search Query Title
Meta description template: Search Query Title, Sites Tagline
404 pages
Title template: Sitename
Meta description template: Sitename, Sites Tagline
For search pages and the 404 error page the SEO plugin lacks a meta description, I include one in my themes. I also include an auto generated meta keywords tag (a copy of the title element). Meta keywords adds no SEO value for Google, but customers want them: next update I plan to add the option to remove the meta keywords tags.
If you are not using a theme like Talian 5 that's got optimized title elements included in the theme, this sort of SEO feature is useful. Though not having a default setting (similar to my settings for Talian above) makes using the SEO plugin to generate optimized titles a chore, I'd hate to be a newbie to SEO and have to create titles with this plugin**
** Out the box Yoast WordPress SEO Plugin title options did not work with the default TwentyTen theme since all options are blank and so some title elements are blank by default. This really needs fixing, I would suggest for starters a check box at the top of this options page that needs checking to turn it on allowing webmasters to add the settings before it changes their titles Would also be useful to have this check box for those who have their themes deal with search engine optimized titles etc…
The above has been fixed.
If you are using a theme that has built in meta tags be aware using this SEO plugin will result in a second meta description tag (you'll have two). To use this plugin to generate descriptions you'll need to edit your theme to remove the default meta description tag.
Yoast WordPress SEO Plugin Indexation
This is the scary part of this SEO plugin, in the wrong hands this can seriously damage a sites SEO rankings! I have Talian 05 customers who still insist on using the All In One SEO plugin. This is a very popular WordPress SEO plugin which has similar nofollow features (I've fully reviewed the All In One SEO plugin recently and it's no longer using nofollow links) and no matter how many times I tell them they still fill their sites with SEO damaging nofollow links because of these dumbass SEO plugins! The above is as true in 2014 as when I wrote it, avoid any WordPress SEO plugin features that add nofollow links.
Indexation Rules
Here you will find a lot of tick boxes for setting page types that you don't want indexing by search engines. Below are the page types that can be blocked:
Search result pages
login and register pages
All admin pages
Subpages of the homepage
Author archives
Date-based archives
Category archives
Tag archives
These are the pages I'd have no problem blocking via a noindex meta robot tag, though it does mean wasting link benefit/PR since the links will still exist, so there's the argument why bother?
login and register pages
All admin pages
Author archives (depends on the site, one author blogs you don't want an author archive)
Date-based archives
You do not generally want to block indexing of:
Search result pages
Subpages of the homepage
Category archives
Tag archives
Many of these pages can gain SERPs in their own right and they aid the indexing of posts/pages within the site (they act like a sitemap that passes link benefit to pages). Not sure why the plugin author would want to block search results, I find other sites (usually not very good search engines) will manage to link to search results (some silly ones) and Google can spider these not very good search engines results pages and index your search pages. There's no SEO harm in this and there's the potential to gain SERPs that you lack specifically targeted pages/posts/categories/tags for (worst case scenario is you get some free link benefit).
I recommend to others not to have monthly archives on a WordPress blog, the archive pages add little value to a sites SEO and wastes link benefit on pointless pages. If you do use them it makes more sense to consider them a sitemap because the only (easy) way to block them is to use a combination of a meta robots noindex tag and nofollow links from your sidebar etc… The problem with this is the link benefit (the PR) that would have gone to the monthly archive pages and then flow through to the posts of your site etc… is deleted when you use a nofollow link (Google deletes link benefit on nofollow links!).
It makes no sense at all to nofollow a link that's to a page you own, unless you have a really good reason for doing so.
In my themes as a partial solution to wasting link benefit on dated archives I've set the monthly archive widget to only show on the home page (and it's home page archives). It's not a perfect solution, but better than having every page of a site link to 12 links to dated archives that won't rank for anything. Update 2014: in my latest SEO theme Stallion Responsive have an alternative solution to noindex that doesn't waste link benefit.
There is a problem with WordPress login and register pages wasting link benefit, in Stallion Responsive I've solved this issue by changing these links into forms with buttons that are styled to match the theme text link colours (they look and act like text links but neither pass nor waste link benefit). I'll add it was a pain to code this into the theme, Stallion Responsive wastes no link juice on the login links (I use the same concept on comment author links to remove the nofollow attributes).
If I was designing a WordPress theme without using form buttons for login links I'd set the widget with the links to only show on the home page (like the dated archives). Again not a perfect solution, but better than linking every page of a site to this pointless (from an SEO perspective) pages.
Internal Nofollow Settings
Here you have three tick boxes to decide which links are nofollow.
Nofollow login and registration links
Nofollow comments links
Replace the Meta Widget with a nofollowed one
As mentioned above, nofollow links delete link benefit, NO SEO plugin or SEO consultant/expert should add more nofollow links to WordPress (there's already too many nofollow links in core WordPress). This is not good practice SEO and it worries me that all the major WordPress SEO plugins offer this nofollow feature!
If you are linking to RSS feeds it's better not to waste the link benefit via a nofollow link, use a normal link and at least the link benefit works for your site.
Hmm, the comment links, link directly to posts comment section. This means if you activate this setting and have 100 posts, you've just added at least 100 nofollow links that are deleting your hard earned link benefit (why?).
Login and registration links are a problem, if you aren't using Stallion Responsive it's better to send the link benefit to the login page as it at least links back to your sites home page. If you are the only person who logs into your site, why not remove the login links and just make a bookmark to the admin page so you can login that way. If you must have login links on your blog there's also the option of surrounding them in some code that means they are only shown on the home page (to login you have to start at the home page). As I mentioned earlier I use this for the monthly archive sidebar widget in Stallion Responsive to reduce the wasted link benefit of those who have monthly archives (not ideal, but better than every page linking to them).
Archive Settings
Disable the author archives
Disable the date-based archives
This is an interesting solution to the problem of themes that link to author pages when you have a site with only one author. If you tick the first box it 301 redirects those pages to the home page. Not an ideal solution, but better than nothing and will conserve link benefit that's wasted on author links. A better solution is remove the links completely from the theme, but that's going to require template editing on most themes (Stallion Responsive has an option to turn the author links on/off for multi author blogs).
301 redirecting the date archives, I suppose useful if you are looking to clean up a site a bit. Remove the monthly archive sidebar widget and 301 redirect already indexed dated archive pages. I'll add even when you don't have the monthly archive widget added to the sidebar, you'll still find the odd monthly archive pages gets indexed (not a major problem though as they aren't getting link benefit from your site if you aren't linking to them).
Robots Meta Settings
Add noodp meta robots tag sitewide
Prevents search engines from using the DMOZ description for pages from this site in the search results.
Add noydir meta robots tag sitewide
Prevents search engines from using the Yahoo! directory description for pages from this site in the search results.
Add nosnippet meta robots tag sitewide
Prevents search engines from displaying snippets for your pages.
Add noarchive meta robots tag sitewide
Prevents search engines from caching pages from this site.
The first two are useful meta tags if you are having problems with your site using meta descriptions from DMOZ or Yahoo directory. Not major SEO features, but some do have this problem can also be solved by editing your header.php file and adding the meta tags manually).
The other two settings are about managing what search engines show from your site (not about SEO rankings). If you have a site that's constantly updating you might not want an old cache showing in Google. Very few people use these meta tags, they are available for solving problems with specific types of sites (generally not issues with blogs).
Clean Up Head Section
Hide RSD Links
Hide WLW Manifest Links
Hide WordPress Generator
Hide Index Relation Links
Hide Previous & Next Post Links
Hide Shortlink for posts
Hide RSS Links
Theses are useful settings that are part of Stallion Responsive, although again these are not killer SEO features, removing a few lines of code from the head section of a WordPress page won't increase rankings (will reduce the size of the page).
I have Stallion Responsive set to hide the WordPress Generator information because it opens a WordPress site up to potential abuse if you aren't a regular updater. Basically when a WordPress exploit is found in a particular version of WordPress hackers use the WordPress Generator version number to find blogs that can be exploited! By removing this from the head makes it harder for hackers to find your out of date site (BIG HINT: keep WordPress up to date, NO software is 100% secure). Also from a purely reducing a pages size (faster loading times) there's an argument for cleaning the head section a bit. Note: these would be considered advanced WordPress settings, generally you wouldn't want to hide your RSS links on a blog for example, so understand what you are removing before you remove them.
Yoast WordPress SEO Plugin Permalinks
Permalink Settings
Here you'll find three tick box settings:
Enforce a trailing slash on all category and tag URL's
Redirect attachment URL's to parent post URL.
Redirect ugly URL's to clean permalinks.
None of them are absolute requirements.
Adding a / to the end of Category URLs, helpful if you want them ending in a /
Redirecting attachment URLs good for conserving link benefit, built into Stallion Responsive.
Redirecting ugly URLs, this could be considered an SEO feature, Google is very good at redirecting duplicate pages to the right page and in combination with the canonical information WordPress supplies you shouldn't need to redirect these ugly links. To give a similar example, if you use comment paging, on posts with a lot of comments you'll get semi-duplicate content. You can see examples with this post: https://seo-gold.com/yoast-wordpress-seo-plugin-review/comment-page-3/#comments
I've found in the past this can cause problems for the main URL with search engines (Google) ranking one of the comment pages higher than the main page, but because the paged comments have less link juice it results in a lower rank in Google (weird I know)! In this case the main URL is https://seo-gold.com/yoast-wordpress-seo-plugin-review/ and to avoid SERPs problems it make sense to set the main page as the canonical URL on all the paged comments like so in the head (view source of page 3 of the comments):
<link rel="canonical" href="https://seo-gold.com/yoast-wordpress-seo-plugin-review/" />
What these means is Google etc… will redirect any link benefit to the main page, but will still spider the comments pages.
However, I run a customized version of a plugin called SEO Super Comments that's built into Stallion. This generates posts from large comments. If you check this Google search it lists all the comments indexed from the Yoast review page (20+ of them) https://www.google.com/search?q=site:https://seo-gold.com/yoast-wordpress-seo-plugin-review/&num=100&hl=en&lr=&safe=off&ei=TCTfTJ-CGsqzhAeq_P2qDQ&start=0&sa=N
But it doesn't list the paged comments, so pages 2,3,4 and 5 aren't indexed, they are spidered though as otherwise the comment pages generated from the SEO Super Comments plugin wouldn't be indexed.
My point is redirecting ugly URLs doesn't make a lot of sense when we have canonical URLs set, they'll be redirected by default anyway.
Yoast WordPress SEO Plugin Internal Links
Breadcrumbs Settings
Here you have a set of options related to adding a breadcrumb trail to your posts. From an SEO perspective there is an argument for adding a breadcrumb trail as it adds more relevant links to your pages. Basically what this does is add a line of links with this sort of format (not actually this format, but if you know what you are doing you can build it this way):
You are here Home Link >> Category Link >> Title of the Post
This doesn't really add any functionality to the page, but as long as your categories names are optimized (using relevant keywords) this adds some relevant anchor text and the title of the post is repeated without it looking spammy. Using the title of a post multiple times is a way to add relevant keywords to a post as long as you add keywords to your titles, in my themes I use the title of posts multiple times within the templates giving SEO benefit with no extra user input.
Only problem with this setup is the anchor text of the Home link. Generally speaking you'll use Home as anchor text for a home link on a breadcrumb and Home as anchor text is a no, no (unless you are after Home SERPs)! Note: this breadcrumb Home link anchor text can be set to anything, so you can set a relevant keyword, but it's going to look a bit weird as a breadcrumb trail if you don't use Home.
The plugin author hasn't added default settings for this feature, so you have to work it out for yourself!
Yoast WordPress SEO Plugin RSS
RSS Feeds
noindex the comment RSS feeds
This will prevent the search engines from indexing your comment feeds.
noindex all RSS feeds
This will prevent the search engines from indexing all your feeds. Highly discouraged.
Ping the Search Engines with feed on new post
This will ping search engines that your RSS feed has been updated.
I once had a site where the RSS feed ranked higher for a popular SERP than the page that was originally doing really well in Google. Since the RSS feed lacked AdSense ads and links you can imagine I wasn't happy about it. I removed the link to the RSS feed from the sidebar and it fixed the problem. It's only ever happened once, but if you have this problem the first two settings could help.
The third setting is useful, pinging when your RSS feed is updated makes sense.
Content of your RSS Feeds
I like this concept a lot. As it happens a few days ago I started testing another WordPress plugin called @Feed which adds a copyright notice and a unique digital fingerprint to every feed item. I'll be using it on my sites soon with the format:
Copyright notice, unique digital fingerprint (for tracking sites stealing content) link back to original post, link back to home page of site and links back to related posts (could be set to a high number, I'll use 3). This means if any one scrapes my RSS feeds they add a set of links (5 links per scraped page) back to my sites :-)
In comparison Yoast RSS Feed content addition feature isn't as good as @Feeds in that it lacks the ability to add related posts (there's also other features with @Feed, but @Feed is a dedicated plugin), but I won't knock the concept of adding this to an SEO plugin (this is a good SEO feature) and also Yoast's plugin uses the title of the post and title of the blog as anchor text for the links back to your site, the @Feed plugin doesn't allow for this (you have to set either static anchor text or the URL as anchor text: I'll probably make an edited version of @Feed for my use that does use the right anchor text when I get the time).
Yoast WordPress SEO Plugin Edit Files
Robots.txt file
If you have a Robots.txt file you'll find a box with the contents of your Robots.txt file so you can edit it. Obviously you'll need your Robots.txt files permissions set to writable for this to work.
.htaccess file
Here you'll find a box with the contents of your .htaccess file so you can edit it. Obviously you'll need your .htaccess files permissions set to writable for this to work.
Not a feature I'd use as like an offline backup of my .htaccess file (and wp-config.php file) in case everything goes wrong (in fact I never work online on any files).
I'm sure some will find this feature useful.
Yoast WordPress SEO Plugin Import
Import
Import from HeadSpace2?
Import from All-in-One SEO?
Import from OLD All-in-One SEO?
Delete the old data after import? (recommended)
Delete meta keywords data? (recommended)
Import settings from other plugins
Import from Robots Meta (by Yoast)?
Import from RSS Footer (by Yoast)?
Import from Yoast Breadcrumbs?
I don't use any of these WordPress plugins, so couldn't tell you how well the import process works.
Yoast WordPress SEO Plugin Other Features
Above are the majority of the settings available with this SEO plugin, you'll also find settings added to the edit posts page (when you create or edit a post/page).
Yoast WordPress SEO
SEO Title:
Meta Description:
Focus Keyword:
Meta Robots Index: Index/Noindex
Meta Robots Follow: Follow/Nofollow
Meta Robots Advanced: NOODP etc…
Breadcrumbs title:
Sitemap Priority:
Canonical URL:
301 Redirect:
Most of the above options have been dealt with in the main settings, here you can individually set these settings post by post. Further details:
SEO Title: Here you can set a title element for that post. I name my posts with SEO in mind, if you write your post names with SEO in mind you shouldn't need this.
Focus Keyword: This looks for the keyword in your post and lists how you used it. I suppose those new to SEO could find this feature useful I work on the principal of adding a keyword as many times as possible as long as it doest read spammy (there is no maximum keyword density, use what reads fine).
Meta Robots Index: Index/Noindex that post
Meta Robots Follow: Follow/Nofollow that post (don't use nofollow, see earlier).
Meta Robots Advanced: Block NOODP etc… use on meta description for this post.
Breadcrumbs title: If you set breadcrumbs and your post titles are a bit on the long side your breadcrumb will be long, you could shorten it here.
Sitemap Priority: Set an XML priority for this post.
Canonical URL: Not sure why you'd need to ever set a specific canonical URL page by page?
301 Redirect: This could be useful if you ever create a new post on the same/similar subject and no longer want the old post found etc… but don't want to loose rankings of the old post. I use this concept myself, I'll manually add a 301 redirect to my .htaccess file and then draft the old post so it's removed from menus etc… Doing this results in a seamless move to the new page without wasting link benefit etc… When sure I don't want the old post I delete it (making my database a little cleaner) leaving the 301 redirect in place of course.
There are similar options for other page types like Categories.
Yoast WordPress SEO Plugin Review Conclusion
If you managed to read the entire SEO plugin review you'll see a mixed bag of results. For me a well coded SEO theme like Stallion Responsive blows a plugin like Yoast WordPress SEO Plugin out the water, so I'd never recommend it. No SEO plugin manages headings use (H1, H2, H3 etc…) within your template files (most templates have a H1 on every page with a link to the sites home page in it, not ideal), no SEO plugin adds significant keywords to posts/pages like I've achieved with the Stallion theme (the title of posts and derivatives are used many times at template level). To have a search engine optimized WordPress site you have to use a search engine optimized theme like Stallion Responsive, it CAN NOT be achieved through a plugin alone.
Don't get me wrong plugins are useful, they can add related post links to posts and pages, add links with keyword rich anchor text automatically and a host of other things, but alone a plugin will not result in a search engine optimized WordPress blog.
I do not recommend using the Yoast WordPress SEO Plugin or any of the other WordPress SEO Plugins including the All in One SEO Plugin which I've also reviewed.
David Law