Comment on WordPress Autoblog Plugins by SEO Gold Services.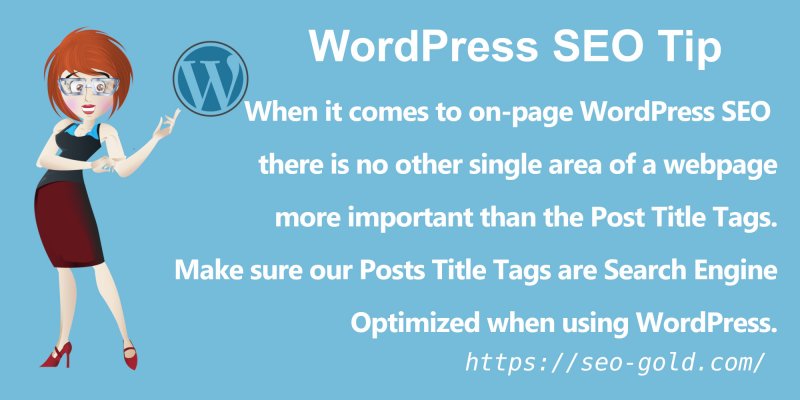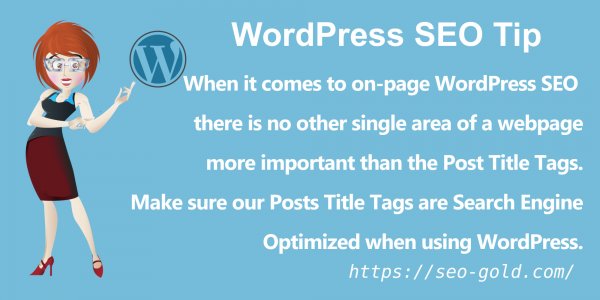 For those not familiar with the title tag/title element.
The title you see at the top of the browser bar and usually shown as the title for Google searches is the Title Element, most SEO's wrongly call it the Title Tag, the title tag is actually an attribute attached to text links (title="keywords") which is ignored by Google.
Most webmasters/SEOs these days use the term title tag when they mean title element, really irritating :-)
I used the All In One SEO Pack Plugin as a starting point for the Title Element override and Related Keyphrases and All In One calls the Title Element the Title Tag, so for backwards compatibility I called it the Title Tag (bugs me, should be Title Element).
I'll call it the Stallion Title Tag for the rest of the comment :-)
Stallion looks for the Stallion Title Tag first, if not present uses the WordPress Post Title for between
<title>keywords</title>
What to add to these two fields really does depend on the site and content.
In a perfect world the WordPress post title will be the perfect title element, but sometimes you want a long descriptive post title that's a bit long for a title element or even a not so good readable non-SEO title on the page and an SEO'd title element which is where the Stallion Title Tag and the four Stallion Related Keywords are useful.
Take this post https://stallion-theme.co.uk/wordpress-seo-tutorial-duplicate-content-and-canonical-urls/
WordPress Post Title : WordPress SEO Tutorial Duplicate Content and Canonical URLs
Stallion Title Tag: Duplicate Content and Canonical URLs
There's not much difference between these two, it's basically to mix it up a bit and wanted WordPress in the Post Title hence the Stallion Title Tag lacks WordPress. Could have added WordPress to the Stallion Title Tag instead, but in this case was using the WordPress post title as a longer derivative SERP so not all internal link anchor text will use the same anchor text.
Stallion Related Keyphrases
WordPress SEO Canonical URLs
WordPress SEO Duplicate Content
Duplicate Content SEO
Canonical URLs SEO
Depending on Stallion and widget settings the above keyword phrases will be used as anchor text and other parts of a post. It basically mixes things up, rather than having all links and all template based SEO using the same phrase.
When using the Stallion Title Tag remember it's the title that will be used for the title tag, so it's the most important title of them all, if you don't add a Stallion Title Tag the WordPress Post Title will be used as the title element so that would make it the most important. The keyphrases are to mix up the internal links etc.. to that page.
I used to advise go for the perfect title element, so if you have a page on "WordPress Themes" the best title element is "WordPress Themes", but there's so much stuff online now unless you have a LOT of link benefit to spend on a hard SERP it's easier to target longtail SERPs. Basically be less specific and target easier SERPs, better to have some traffic from easier longtail SERPs than none from hard SERPs.
When I first got into SEO I was ranking high for one word searches like Lingerie, but even then it took a LOT of backlinks. There's so many sites like Wikipedia that can dominate a lot of one word SERPs due to the sheer power of their backlinks it can be argued it's a waste of link benefit to try for hard single keyword and double keyword SERPs.
So what you do depends on how much link benefit you have access to, not a lot, go for longtail SERPs. I have quiet a bit of link benefit, but to gain a SERP like Lingerie today I'd have to use it all, so I go for longtail SERPs: basically easier to gain 100 SERPs with 10 visitors each a month than one SERP with a 1,000 visitors a month AND you are less likely to loose all your longtail traffic in one Google algorithm update.
In the next Stallion update the Stallion Title Tags and Stallion Related Keyphrases will be even more important. Google only counts the anchor text of the first link to a page from a page, so if you have a page with two links to the same page with different anchor text only the first anchor text (code wise) counts.
Example, two links to this site's home page, the anchor text of both of these will be ignored since there's already links to home higher in the code. Do a Google search for the second anchor text in a weeks time, this page shouldn't show as a result.
Stallion All In One WordPress SEO Theme
StallionHomeXAYBZC
There's a way around this using a different link format
The above anchor text should be indexed in the short term, which will confirm it counts: remember Google isn't perfect, sometimes they screw up, I keep getting anomalous SEO test results on nofollow links anchor text.
To read more about this SEO test go to Anchor Text SEO Tests.
In the Stallion Responsive 8.0 update this format will be an advanced SEO option through out Stallion, will work with almost all link types like the Stallion widgets. Going to add a lot of internal links that will have different anchor text and it will count towards SERPs. Will change the way Stallion builds internal anchor text, I worry Google isn't counting the anchor text of internal links as much as they should when all the links have the same anchor text (hence the future update).
David
Update: The above concept is built into Stallion Responsive.