Comment on Why SEO Training is Essential for Marketing Professionals by David Law.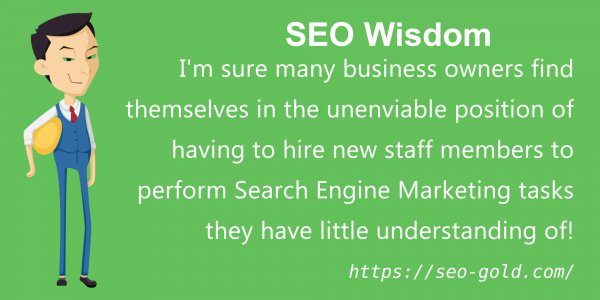 Glad to hear you are finding my SEO articles useful, since I'm looking for new SEO clients I'll be adding more tutorial type content to the site as SEO client bait :-)
Sounds like you are struggling to cope with your SEO role in the business?
It's not unusual for marketing staff members to be given search engine marketing/social media marketing on top of their offline marketing tasks in a mistaken belief marketing is marketing.
Even within online marketing there are different niches requiring different skill sets, I have masses of experience in technical search engine optimisation (optimising code, site structure, page speed etc… which means understanding advanced HTML, CSS, PHP, server settings…), but have very little experience in email marketing: I know more than the basics, but calling myself an email marketing expert would be pushing it a LOT :-)
I would assume an employer with a highly skilled SEO expert wouldn't assume the employee is also highly skilled at offline marketing (TV ad campaigns etc…)! Interesting some assume those good at offline marketing will also be good at online marketing.
I find one of the worst things an employer can do is look for online marketing staff with relevant experience in the businesses niche, but little experience in the online marketing itself.
For example you would think for a language based business like Languagenut employees who speak multiple languages is a huge plus, BUT it shouldn't trump search engine marketing skills/experience if the main task is multilingual SEM. They might be able to create content etc… in more than one language, but if it's not search engine optimised and they don't know how to promote it online and grow social media accounts etc… the content won't be seen by potential customers.
If I ran a business and was hiring new SEO/SEM/SMO staff I wouldn't consider anyone without 5+ years experience working in SEO/SEM/SMO and I'd expect to see proof of experience (optimised websites, Twitter accounts etc…).
I would only consider hiring low skilled candidates IF there was at least one highly skilled staff member with a proven track record with the ability to train staff to a decent level. Otherwise it's a waste of time and money, the new employee(s) will be fumbling around in the dark guessing what may or may not work to attract traffic etc…
David Law