Comment on Stallion WordPress SEO Plugin by SEO Gold Services.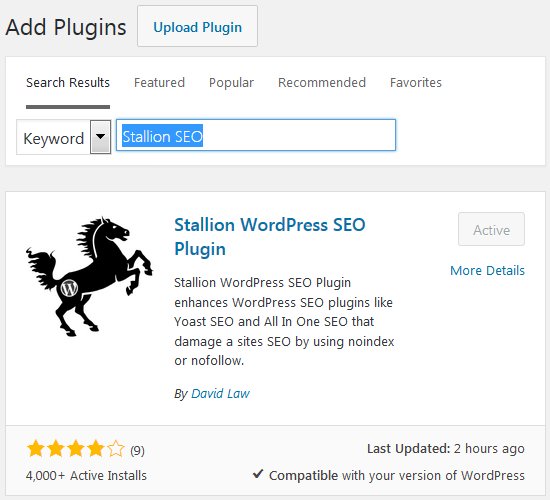 I'm afraid the only part of your comment on nofollow that's correct is
"I mean who the heck want to make their login page has PR 7?"
Everything else is completely wrong.
Nofollow deletes the link benefit, so your example doesn't save the link benefit for the home page, it is gone. You would be better off having a PR7 login page that links to other parts of your site (recycling some of the link benefit) than nofollowing links to your login page.
Better yet use the Stallion Theme and/or the Stallion Plugin and the vast majority of parts of WordPress you wouldn't want to waste link benefit on are covered. For example the author link you added to your comment isn't a text link, it's a button styled to look like a text link, view source and you'll see no text link to your website, didn't have to use nofollow and didn't waste my link benefit linking to a commenter's site. As the main admin to this site my author name links are text links, I can also add dofollow links (another Stallion theme feature) : SEO Test Results – Nofollow Links Passing Anchor Text Benefit.
Note if the link above did have a nofollow rel attribute (I could add one like this link SEO Tutorial or turn a Stallion setting on to add one automatically) the Stallion Theme would have converted it to a javascript link (another Stallion Theme feature).
Although there's been examples of nofollow links anchor text being indexed (done the SEO tests** myself and found that), as a general rule nofollow links don't exist to Google beyond deleting the link benefit they would have passed.
Go here https://stallion-theme.co.uk/seo-tutorial-for-wordpress/ (note this link isn't hyperlinked, another Stallion Theme feature preventing WordPress adding a nofollow link) check the first comment, there is a nofollow link test with a unique word as anchor text. Google isn't supposed to index the anchor text of nofollow links, but if you search for that made up word that page (only that page and the link is over 1 year old) is indexed in Google. This confirms two things.
1. Google isn't perfect or they changed the way nofollow works again and they treat nofollow anchor text as standard body text currently.
2. Although the anchor text is indexed on the page the link is on, it isn't passing any anchor text benefit to the page it's linking to.
Point 2 is the most important one, many webmasters add comments to blogs etc…. and many are nofollow now, the anchor text of the nofollow links are passing no SEO benefit back to the page being linked to. All you are doing is damaging the site the nofollow link is on, each link deletes a fair share of link benefit.
Do the research, I'm not the only SEO expert who does SEO tests, it's all out there to find.
David