Comment on Stallion WordPress SEO Plugin by SEO Gold Services.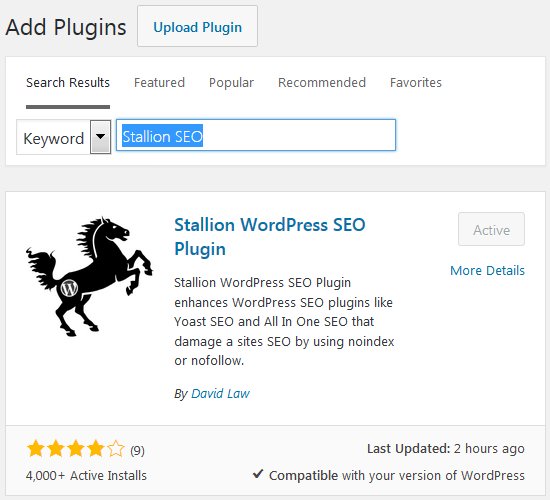 With WordPress plugins you have to be careful they aren't resource hogs, I've had plugins with great features add hundreds extra of database queries to a page! The original contextual related posts plugin is like that on archive pages (where it shouldn't even be loaded), in my version it's fixed.
I plan to update the Stallion Contextual Related Posts Plugin and incorporate the new random thumbnails feature into it, basically rather than have the blinking cartoon a random thumbnail is used. Will also link it in with the Stallion All In One SEO Plugin code so it uses the keyword phrases etc… I might try to incorporate the plugin directly into Stallion so no need to install a stand alone plugin.
I'm dropping using the Most Popular Posts Plugin because the Stallion SEO Posts widget does the same thing, but MUCH better.
I've got the Stallion SEO Posts widget running on the right sidebar menu item "Stallion Popular Articles". Popular posts organised by comment count with thumbnails and excerpt, plus incorporated into the Stallion All In One SEO code (keyword phrases etc…).
The Stallion SEO Posts widget is awesome, I'm using it twice on this site the popular articles widget and in the first footer widget area the "Latest Stallion Articles".
Can also create recently modified, alphabetical, random and by ID with the option to reverse the order.
If you look at most widgets you are lucky to have the option to enable the widget for either one category or exclude from one category, there's no easy to use (AKA dropdown menu or tick boxes) WordPress default way to select multiple categories to enable/exclude a widget. Took ages to track down code that would work, but I found some and this is a highly unique feature rich widget.
I expect I'll average three menu items per site for the Stallion SEO Posts widget when I get the time to update all my sites, it really adds a lot of colour via images to the sidebars. In future updates I'll add more random thumbnail sets as well, so for those who don't add featured images to posts there will be more thumbnail choices.
In the next Stallion update I plan to add title element (title tag) support for the Yoast WordPress SEO Plugin, although I don't use it or recommend it's use, some Stallion theme users do use it, so makes sense to use the Yoast WordPress SEO plugins title tags for anchor text etc…. when available.
David