Comment on Skegness Electricians: Local SEO Case Study by SEO Gold Services.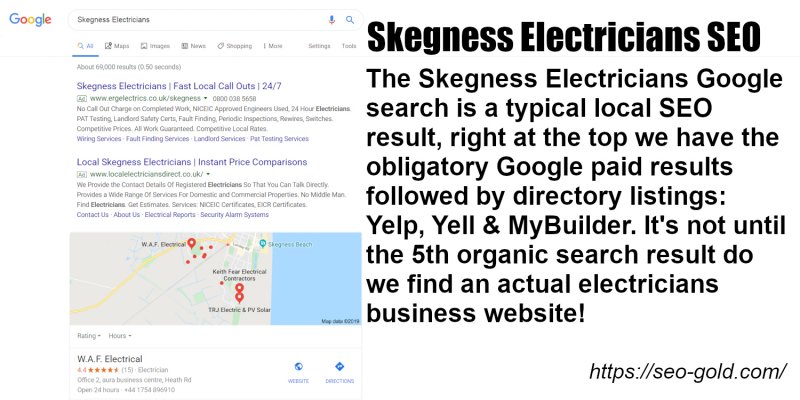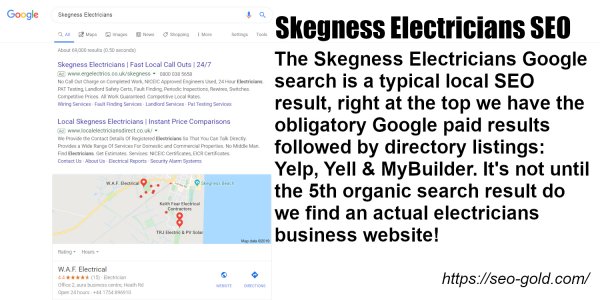 Thanks for your comment and interest, glad to see the website is already ranked number 1 in Google for "SEO Electricians Lincolnshire": the article is only a few days old.
Other than via PPC (Paid Google advertising) no SEO marketing agency etc… can guarantee Google search results. We (SEOs) have no control over the Google organic search engine algorithm, and businesses which promise specific results are lying/misleading you, I wouldn't touch them with a barge pole!
Currently (the last week in December 2019) I don't offer "exclusive local seo for electricians". I'm assuming you want exclusivity for the Boston area so I wouldn't take on a direct competitor (makes sense).
I've been offering general SEO services for over 15 years, in 2020 I'm looking into a niched SEO business primarily covering one sector like SEO for Electricians.
I'm about a week into the research process so have nothing set in stone. Assuming I go this route (I'm 90% sure I will) it will include exclusivity, so if you hired me I'd not take on another electrician in Boston.
SEO for Electricians and SEO for Plumbers look VERY interesting.
I'm a DIY enthusiast: been renovating a 4 story ex-guesthouse (about 20 rooms) for years and have done a fair amount of electrical and plumbing work, so those are potential subjects I know a bit about: understand a business makes the SEO a LOT easier.
There's a US based Plumbing SEO agency which seems to dominate the SEO Plumbing niche in the US at least, so SEO for Electricians is at the top of the list right now: though I do like a challenge/competition, so who knows.
I'm not ready to take on paying local SEO clients yet, it will be a completely different SEO service to what I've offered in the past, so need to do a lot more research.
To do things right I suspect it means taking full SEO control over a local businesses website and their Google My Business listings etc…, it's all interlinked for local SEO to work, miss one out and it degrades the whole approach.
I have your email address (from the comment), so when I have more details I'll drop you an email, maybe you will be my first local SEO for electricians client.
Thanks again for the comment and early interest.
David Law