Comment on The SEO Value of Private Blog Networks by SEO Gold Services.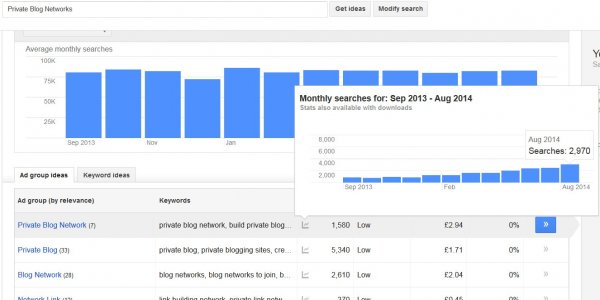 Did you read the last part of the main PBN article regarding using expired domains to build a PBN, from:
Private Blog Network Services
Whilst researching PBN's I noticed a tendency for Private Blog Network Services to be selling products that revolved around buying expired and deleted domains for backlinks…
The article you linked to "How I Built My Private Blog Network for less than $500 and How You Can Too" relied heavily on expired domains, basically the author thinks expired domains hold SEO value.
Step 1 – Choosing a Domain Name
We will be utilizing expired domain names for our network, domains that have existing back-links and domain authority. Remember we are creating a high quality private blog network, so the domain names themselves should also be decent…
The problem is Google resets PR, authority, trust and backlinks of expired domains.
Take a read of https://www.webmasterworld.com/forum3/10036.htm pay attention to what Googleguy said way back in 2003. Googleguy was a confirmed employee of Google (Matt Cutts).
Last time I tested is many years ago and the Google trust and PR etc… was reset.
Since the reason for buying expired domains to build a private blog network is so you don't have to build backlinks, if Google resets the SEO benefit of expired domains there's no value in owning them.
I think you'll agree since Google was resetting the PageRank/trust/authority of expired domains 10 year ago to prevent people like me benefiting from expired domains (I used to buy them for PR), I don't think they'd reverse that decision any time soon. I've not felt the need to test expired domains for years and won't waste money buying an expired domain for a PR test: since public PR hasn't updated for nearly a year and looks like Google will stop showing public PR soon, makes that part of an SEO test pointless.
That doesn't mean you can't build a site network without having to build backlinks, if you plan to build a PBN look to buy active sites that haven't expired for at least 2 years. Public PageRank hasn't updated since December 2013, so you can't trust the PR of a domain that expired over the past 12-18 months. If you can find domains to buy that's been live a few years, has valid PR and seems likely to be able to pass SEO benefit then you could build a private blog network quickly.
I would look for full sites with Google rankings, those are the sites that can pass serious SEO benefit. I would aim for sites in the same niche(s) I want to make money from. The alternative is build them from scratch, but then you still have the issue of building backlinks and now you have, 2, 3, 4…. domains to build links for :-)
I'm in the process of cutting my network down (I'm letting domains that are PR3 expire because all the PR is from my network, removed the backlinks months ago: those domains without the links have no serious value, but I know some newbie will buy them when they expire for a PBN), plan to concentrate on a much smaller number of domains.
I'll probably be below 100 domains in 6 months and much lower in 18 months. It's too much work to build backlinks to 100+ domains, can achieve so much more with a small network of high quality domains: I'd be happiest if I could put all my content on one domain, but can't, so long, long term might go as low as 10 domains.
I registered a new domain 2 days ago, my wife and I are going to build a large site from scratch with unique content, will seed a small amount of links from my network (not many: probably enough to make a PR2 home page so it's quickly spidered) and look to add content which users will link to, share on Twitter, Facebook, Google+ etc… will be a minimum 2 year project: no shortcuts, just hard work. If it works the long term rankings will be due to good content, strong on-site SEO and naturally built backlinks. Won't trade reciprocal links, buy links or do anything to build fast links, links will be 99% link bait generated.
IME Link bait is how to build a sites traffic.
David