Comment on The SEO Value of Private Blog Networks by SEO Gold Services.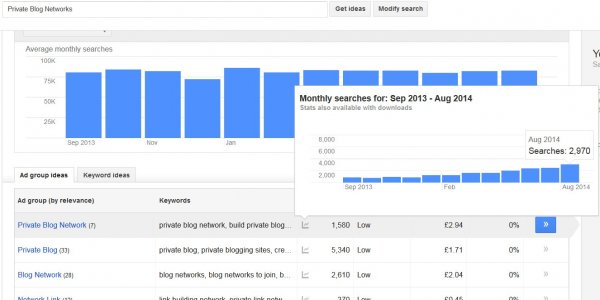 Looks like you made a mistake on the Lack of Beer SERP numbers.
Using Google.com in a Private browsing window:
Lack of Beer : About 29,900,000 results
"Lack of Beer" : About 405,000 results
Tells us a lot of webpages use all three words, but about 400K use the exact phrase.
Would you agree using the exact phrase Lack of Beer on a webpage makes it significantly more likely that page is optimized for Lack of Beer compared to a webpage that happens to use the three words, but not together (I like beer a lot, the lack of alcohol makes me sad)?
This doesn't mean all 400K webpages are targeting the SERP, means they might be.
If you find a phrase has a really small number of webpages with the exact match it's not rocket science to speculate the SERP will be easy.
I don't understand why you don't see this, it's common sense SEO.
According to Google AdWords keywords research tool there are no searches a month for lack of beer.
Looking at the top 10 webpages for the loose search Lack of Beer they are all deep content pages, many of them don't even use the phrase as the title tag.
This suggests most webpages that use the phrase lack of beer aren't specifically targeting the SERP, most likely a phrase that's part of lot of content, but not a targeted phrase.
This should be an easy SERP (worthless SERP).
I have a comment here that's targeting to some degree the Lack of Beer SERP which is worthless, so going to give it a spin to target where to buy beer online (because I can) which has some traffic. Interesting SERP to target for someone who has been teetotal for 20+ years, haven't bought beer online or otherwise for a LONG time.
David