Discover the basic skills required to determine if spending money on Search Engine Optimization Services (SEO Services) for a plumbing websites is value for money, whether the potential business benefits to a plumber are plausible.
Might seem a stupid thing for an SEO expert who charges a lot of money for SEO services for plumbers to discuss, but paying for SEO isn't for every plumbing website. As an SEO service provider with a reputation to maintain the last thing I want is to sell an inappropriate SEO consultancy package to a plumber just to make a quick sale!
Unfortunately not all SEO businesses are ethical, many so called affordable SEO services are a complete waste of time and money, they should be avoided at all costs.
After reading this article I hope to remove a little bit of the guesswork from the decision making process.
Plumbers SEO Services ROI
Always remember THE critical factor in the decision to hire an SEO expert, SEO agency or digital marketing agency is of course the potential Return On Investment (ROI), for most plumbing businesses I'm afraid it's a case of guesswork!
How should a plumber decide if a search engine optimization service is right for their plumbing business and will generate a decent ROI?
Let's say a large plumbing business considers spending $60,000 (~£45,000) a year on an SEO marketing service or a full-time SEO specialist with experience, the absolute minimum ROI should be at least $60,000/£45,000 otherwise the business has lost money.
$60,000/£45,000 a year is at the higher end for SEO marketing experts, but it's not expensive IF the SEO service delivers a significant ROI.
When deciding on whether to work with an SEO company remember there's no point spending tens of thousands of dollars/pounds on an online marketing service (SEO is a form of online marketing) if it doesn't result in an increase in revenue or at the bare minimum a significant improvement in online brand awareness.
This very basic SEO ROI calculation doesn't include time/money spent by the plumbing business interacting with or following the SEO advice of an SEO expert, SEO agency etc… if other employees (the plumbers marketing team for example) have to spend say 20 hours a week working with an SEO specialist, that's 20 hours not spent on other marketing activities. Factor this into to your SEO services ROI calculation.
With our $60,000/£45,000 a year SEO service plus 20 hours worth of an employee(s) time a week, what's the minimum increase in plumbing jobs required to justify a $60,000/£45,000 investment and the time of an employee(s)?
The answer is different for every plumbing business based partially on the local areas covered, for example there's far more plumbing work available in London vs a small town like Boston in Lincolnshire. A $60,000/£45,000 investment in a highly skilled SEO expert by a large London based plumbing business could be an absolute bargain, but for a smaller business in Boston it could be a poor decision.
Look at the Google Search Console screenshot above, (it's a for a website I started working on in December 2019) it shows 6 months of web and image traffic (3 months before SEO work vs 3 months after SEO work), you can see the traffic graph has no growth in image traffic, but a significant traffic growth for web visitors.
Free Google organic search engine traffic increased by over 600% in just 3 months!
A 600% increase in Google organic search engine traffic sounds amazing, but dig a little deeper before assuming this is enough traffic to warrant paying tens of thousands of dollars/pounds.
Free Google organic search engine traffic went from around 75 visitors a day in 2019 to over 500 visitors a day over a 3 month period (January 2020 to April 2020). That is a 600% plus increase in visitors, but in absolute terms it's an increase of 400+ visitors a day.
How much money is an extra 400 visitors a day to a plumbing business? Once again it depends on the business, if your plumbing business is currently doing OK on 75 visitors a day, a 600% increase is a big WOW moment, your plumbing jobs could increase 6 fold on this sort of increase.
However, if your plumbing business currently runs on for example 10,000 visitors a day, a 400 visitor increase in 3 months might not be enough to justify spending serious cash on an SEO service.
SEO Tip: If an SEO agency, digital marketing agency or SEO company tries to sell you an SEO service based on an amazingly high % growth in traffic, but they do NOT provide the absolute traffic numbers, put the phone down on them! Any % traffic increase without the accompanying traffic numbers is a worthless metric, a site with just 10 visitors a day could easily increase by over 1,000% in a month or two since a 1,000% increase from 10 is only 100 visitors!
Fail to make this SEO services ROI calculation and you might find your plumbing business loses money even with an increase in Google rankings and sales! It would be poor value to spend $60,000/£45,000 for a $30,000/£22,500 profit increase in plumbing jobs. The business might have done better going with a more affordable SEO option or for a small plumbing business with a few employees, do the SEO work in-house: it depends on the plumbing business, there's no one size fits all option when buying an SEO service.
Does Your Plumbing Website Have Potential to Generate Free Traffic from Google Now?
After determining the minimum SEO services ROI calculation, next step is estimating if your plumbing site has the potential to generate enough extra free Google traffic to increase business to cover the cost of the SEO service. This is a very important step, do NOT skip it and assume your website is suitable for an SEO service just because a slick sales person from an SEO agency has sold you on their 'best' SEO marketing service on your first phone call contact.
To put things into perspective ten London plumbers could contact me next month looking to hire me to work with them, I'll be lucky if three of the plumbers are suitable for the sort of SEO services I offer. To work out which of the London plumbing businesses are suitable for an SEO service will take me at least 30 minutes of research for those NOT suitable and a few hours for those which MIGHT be suitable.
For example a well established large plumbing business like Pimlico Plumbers in London might only need a small % increase in free Google traffic to warrant spending $60,000/£45,000 directly on an SEO service.
In fact for a lot of established business websites (including the Pimlico Plumbers website) simply improving pagespeed (how fast a webpage loads) could warrant spending tens of thousands of dollars/pounds a year: pagespeed is that important.
If your plumbing business already generates millions of $/£s in plumbing jobs, how much would you kick yourself (your online marketing team) to discover a significant % of the current search engine traffic is bouncing right back to Google because the site loads too slow?
Pimlico Plumbers Website PageSpeed Review
Test the Pimlico Plumbers website live:
The Pimlico Plumbers business website https://www.pimlicoplumbers.com/ for example has a lot of aged high quality backlinks resulting in a Domain Authority (DA) of 55 (DA55 is a good DA value: probably a PR5 or PR6 homepage), BUT the website isn't pagespeed optimised, it's slow.
Test the SEO Gold website live: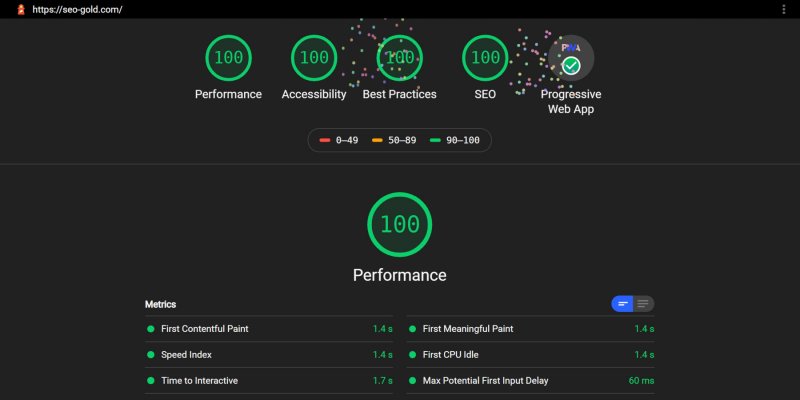 Domain Authority (DA) and PageRank (PR) are important in determining how likely a website can generate free Google traffic.
Most business websites are slow to load because most web designers and web developers don't understand pagespeed optimisation. Pimlico Plumbers homepage takes over 10 seconds to load and be fully interactive on a slow mobile network according to the Google Lighthouse tool.
Consider a little old lady in London frantically searching Google for an emergency 24hr plumber in London because a toilet is leaking in an upstairs bathroom and it's only a matter of time before the living room below is ruined! Will she wait 10 seconds for each Pimlico Plumbers webpage to load or will she hit the back button (bounce back to Google) and try a competitor website which is faster on her old mobile phone with a slow mobile Internet connection?
Google and many others have tested pagespeed vs bounce rates and slow loading websites lose visitors which cost sales/customers. Google prefers fast loading websites (speed is a Google SEO ranking factor) because it's search engine users (your potential plumbing customers) prefer fast loading websites, so not only are slow loading websites losing sales due to visitors giving up and going to a competitor website, they are also losing out on more free Google traffic to their competitors which load faster.
Pimlico Plumbers isn't a particularly slow website (some business sites take over 30 seconds to load on slow mobile devices!), to put Pimlico into perspective their homepage loads in just over 10 seconds (slow), the SEO Gold homepage loads in 2 seconds (fast), but I'm not their competition, so let's look at a competitor plumber.
Plumbforce Direct Website PageSpeed Review
Test the Plumbforce Direct website live:
Plumbforce Direct https://www.plumbforcedirect.co.uk/ are direct competitors to Pimlico Plumbers, they both offer plumbing services in London. The Plumbforce Direct homepage loads in just over 6 seconds (slow). 6 seconds is still on the slow side, but it's much faster than Pimlico at 10 seconds and Google takes this into account when it ranks those two sites content.
If all other things were equal SEO wise for the Pimlico Plumbers website and the Plumbforce Direct website, we would expect Plumbforce Direct to tend to rank above Pimlico Plumbers in Google. Pimlico loads in about 10 seconds and has DA55, Plumbforce Direct loads in about 6 seconds and has DA70.
A Google search for London Plumbers lists:
Plumbforce Direct : 1st
Pimlico Plumbers : 3rd
As an SEO expert it would be really interesting to see what would happen if the Pimlico Plumbers website was better speed optimised and better search engine optimised overall (the onpage SEO is poor), we could see Pimlico Plumbers listed at number 1 above Plumbforce Direct without creating new content or building new backlinks.
I'm sure you can see already it could make sense for both of those London plumbing businesses to employ an SEO expert or SEO agency which focused on pagespeed SEO issues: that's a technical SEO issue. Plumbforce Direct Google SERPs like London Plumbers are vulnerable to Pimlico Plumbers, if Pimlico ever fixed their pagespeed issues etc…
Both of these plumbers websites are ranking high in Google already, the main reason for these Google rankings are OFF-page SEO factors, (that's the backlinks to the websites, see their DA values, they both have a decent number of reasonable quality aged/stable backlinks) rather than ON-page SEO factors (that's search engine optimised content and how fast the sites load).
In SEO terms the really hard part about SEO is building backlinks, quality stable links (links which are live for years) to a website are SEO gold, you can never have enough high quality stable links. High quality stable backlinks are VERY important to Google rankings, Google has a delay in rankings called the sandbox effect which in simple terms delays the SEO ranking benefit of new links including new high quality links.
What this means in practice is a new London plumbing business could open today with more website content with a super fast website (below 2 seconds to load) with highly SEO optimised content and it would NOT be able to compete with either Pimlico or Plumbforce Direct until it had built a similar number and quality set of backlinks which have been live for about a year! There's no shortcuts, a new business couldn't spend a million on backlinks and 'jump the Google rankings queue', those new backlinks have to age and they have to remain live forever.
It's why over the past 20 years working in SEO and offering SEO consultancy services I rarely take on business clients with new websites which are targeting general Google search phrases or highly competitive areas like London Plumbers: I'm good at SEO, I'm not a miracle worker!
For both Pimlico Plumbers and Plumbforce Direct I can see significant value if they hired an SEO expert or SEO agency which understands technical pagespeed issues and understands on-page optimisation. Both websites would also benefit from new targeted content as well.
For these two London plumbing businesses they don't NEED new backlinks per se to warrant paying for an SEO service, but of course any new backlinks will aid in improving Google rankings overall.
It's a no-brainer speeding up the loading of websites which already have a fair amount of Google traffic and aren't that fast is good value for money,
Hopefully after reading this article you will feel a little more confident in dealing with SEO consultants and the sales teams of digital marketing and SEO agencies. If in doubt, drop me a comment below and if I have the time I'll give you a few free SEO pointers.
David Law