Comment on Clearing the LinkedIn Link Sharing Image Preview Cache by David Law.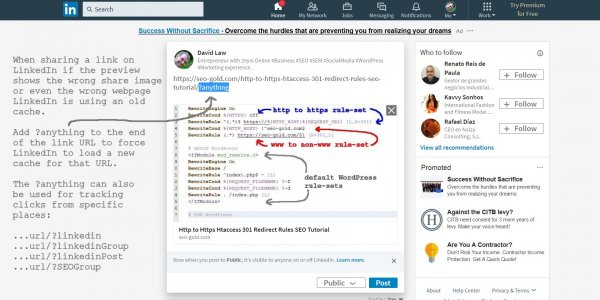 Is the issue you've recently changed your social media tags?
If so I'd try clearing the websites internal cache IF you have one: if a WordPress user for example and you run a caching plugin like W3 Total Cache clear the plugins cache.
While logged out of your site (if a WordPress user log out) I'd also manually check the HTML code output, in FireFox or Chrome "Right Click" anywhere on the webpages content (avoiding images) and click "View Page Source".
Look for image relevant social media tags and confirm it's the right image.
Also check you don't have contradictory tags, I looked at a potential SEO clients site last month and they had two sets of tags, one was added by the Yoast SEO Plugin and the other either another plugin or the WordPress theme. If you have two social media tags which do the same thing and have different images set I don't know how LinkedIn will treat them.
If none of the above works I read LinkedIn stores it's cache for a week, so you might have to wait!
BTW Each time you test if it's worked after a change use a different ?somethinghere, because each test will be cached in it's own right. If you used ?firsttry while having the wrong image it will keep using the ?firsttry cached image.
David